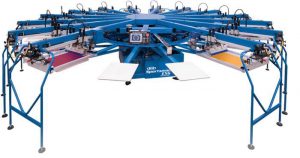 ATS Printing is proud to be one of the few screen printing businesses in Michigan with capabilities to service the high volume, short time frame needs of professional championships for the NHL, MLB, NBA, and NFL.
And, unlike many high volume screen printers, we also enjoy connecting with the Community and servicing small business, organizations, 
teams
and families with highly
competitive pricing and small order volumes.
Screen printing can be done on any of flat fabric item, such as apparel, hats, bags, totes, etc. 
See Apparel Catalog
.  We are equipped to print basic 
1 color designs up to elaborate 16 color designs
.  We can also mix colors according to the
Pantone
color palette and can exactly match your needs.
ATS Printing also employees talented in-house graphic artists.  Feel free to send us your designs or logos for an exact match, or inquire about help with your art.  More about our graphics support.